a home away from home
Alea Apartments
Right in the heart of the Cyclades complex, is the magnificent island of Paros. We established Alea in Naousa, the medieval and traditional white-washed fishing village, the most popular destination on Paros. Famous for its picturesque architecture, colorful small streets, numerous extraordinary beaches that surround it, the exquisite cuisine and its lively nightlife, Naousa is the must go destination when you visit Paros.
A family run establishment, Alea is a small complex of traditional apartments. Here you will have a chance to relax, close to the sea and enjoy the island, the sun and Filoxenia, the greek culture of hospitality and friendly atmosphere. And ofcourse you are welcome to lots of gaming hours with more than a thousand boardgames in our collection!
The Varrias Family as well as the staff will do its best to guarantee that your holiday at Alea Paros will be one to remember.
Simos, Dimitris & Maria
Your Hosts
Studio for 2 people (upstairs)
A studio for two upstairs with a double bed and a balcony with some seaview
Studio for 2 people (ground floor)
A studio for two downstairs with twin beds and access to our patio
Apartment for 3 people (upstairs)
A studio for three, upstairs with a double bed a sofa bed and a balcony with some seaview
Apartment for 3-4 people (ground floor)
A studio for three or four downstairs with a double bed, two sofa beds and access to our patio
Apartment for 4 people ( upstairs )
A studio for three or four upstairs with a double bed, two sofa beds a balcony and some seaview
Start the day with our
Greek Breakfast
Traditional delicacies
Discover our traditional breakfast! We took great care in putting together a basket, filled with traditional delicacies from Paros, as well as other places in Greece. High quality, homemade as well as high nutrition value components for a balanced breakfast that will provide the necessary energy for a day exploring Paros.
Coffee, Tea, Juice, & Assorted Beverages
At Alea you can try a traditional Greek coffee, always served with a smile and a warm "Kalimera" from mama Maria.
Upon Request
Inform us about any allergies, medical conditions or requests and we will do our best to modify your menu according to your wishes.
Let's play
Board Games
Come join us in a game or ask us about borrowing a boardgame! there is a huge collection of boardgames that you can explore! We can help you pick something that you will enjoy! No matter If you are a family that just wants to relax and play or you are a hardcore gamer, we have the game for you!
Our collection now counts more than 1200 titles. Some of those we are very proud of like Patch History ( 50 copies world wide ) or the Japanese game Machikoro , or games from Splotter like Indonesia , Antiquity, the great Zimbabwe, Roads and Boats or some really old games like Die Macher or the game made especially for our event, Thermopyles by Touko Tahkokallio. Of course we are always proud of our Greek boardgame titles, made by Drawlab Entertainment, Ludi Creations, or Lefteris Iroglidis as well as Artipia games.
In our collection you will find games for every kind of player. Family games, party games, fun and relaxing games, dexterity and mind games, as well as more hardcore war and strategy games.
Enjoy your stay
Room Amenities
Kitchenette
Espresso brewer
Fridge
AC
Linens & Towels
the linens and towels are changed every three days
TV
WiFi
Small iron
Hairdryer
Bathroom amenities
the bathroom amenities are a welcome gift and are not changed during your stay
Hotel Amenities
Free WiFi
Free parking
Washing machine
Printer
Coffee maker
Transfers
Pick up from the port: we can arrange a taxi or even pick you up from the port ourselves if the arrivals of the day allow such service. Please do not hesitate to ask – upon request
Public transfer: In our reception, you can get information about the timetable of the local buses.  There is a bus stopacross our door. Also you can access the timetable at the official bus site www.ktelparou.gr
Taxi: we can provide information and make a reservation for you
Car hire, motorbike, bicycle: we can provide information or even assist in making a request for you
Sightseeing & Activities
We can arrange a tour to Ekatontapiliani church as well as the Marathi Marble quarry. With the assistance of Aristeidis Varrias( www.varrias.com ) renown sculptor and scholar, as well as Maria Arkouli, Theologist and archaeologist, the tours are unique.
Wind surfing and watersports we can provide information and make a reservation for you
Information on the best taverns on Paros – We will be delighted to share information and tips on the best places to eat, depending on your needs and taste.
Information and directions to the best hiking sites and paths – Paros offers many beautiful hidden jems. As locals we can help you get to some of them and enjoy the local, original feel of the island.
Daily Tours – we can assist in reserving a daily tour to the various locations close to the island
Geocaching on Paros
Tips for the island
Where to Swim
Golden Beach, Kolymbithres Beach, Faragas Beach, Marchelo Beach, Santa Maria Beach
What not to miss
Ekatontapyliani Church, Lefkes village, Naousa Village, Paroikia Village, Marathi Parian Marble quarry, Antiparos Village
Where to eat
Mario, Yemeni, Siparos,Klarinos, Tsitsanis, Alexandros, boudaraki, Akis Balcony, Mouragio, Alyki, Chalaris, Markakis
We will happy to give you a map of paros and pinpoint most of the main attractions as well as give you more personalized tips for the island. Spoiler Alert *hidden spots available*
The Reception desk is open 08.30-14.30
Check in time 12.00-14.30
Check out time 11.00
Breakfast is served from 8.30-10.30
Have a Question?
Talk to your Host
Information
Location & Nearby Attractions
​Alea, is located in Naousa, the most attractive and popular village of paros island. During the day, you can wander in the small streets, bathed in the unique cycladic light, explore the local market, as well as the modern fashion stores, and of course visit the beautiful nearby beaches of Kolybithres and Santa Maria, with the crystal clear blue waters. After the sun sets, naousa really shines with the famous nightlife as well as the culinary excellence. Have a drink at a balcony overlooking the small port or dine with style next to the sea!
When you travel, you are usually treated as a guest. But at AleaApartmenst, you are treated like a beloved member of Maria's family. The accommodations are newly renovated and lovely, the breakfast is delicious and extremely generous, the location is super close to all you need – bus stop, beach, supermarket, town. You can find these amenities at other places. But the experience of interacting with a warm and caring host who makes you laugh, helps you experience the island in amazing ways and is always quick to help – now that is a rare find. We travel a lot. Alea Apartments rates at the top of our list! Don't miss it!!
The definition of Greek HOSPITALITY! Simos & Maria looked after us like family. Clean and spacious rooms. Beach views. Perfect location, a walking stroll to Nausa, and with two beaches nearby (Little Piperi was just the best!). Exceptional breakfast, with local foods selected on a daily basis.
Die Herzlichkeit der Gastgeberin Maria und ihresSohnes war wirklicheinzigartig. Die Beidenhabensichrührend um ihreGästegekümmert- ob Transport, Restaurants oder die bestenStrände. Das selbstgemachteFrühstückisthervorragend und wechselttäglich. Das Zimmer war sehrsauber. InsgesamthattenwireinentollenAufenthalt, der sichwieeinBesuchbeiFreundenanfühlte. KlareEmpfehlung!
Perfeita. Apartamentomuitoconfortável e com umadimensãoacima do esperado. A localização é longe o suficiente do centro de Naoussa para nãoestar no meio da confusão e barulhomasperto para ir a pé. Tem estacionamento à porta, o quefacilita para quem tem carro. O pequeno-almoço, compostoporprodutoslocais, variatodososdias. É de destacaraimensaafabilidade, hospitalidade e simpatia da Maria e do Simos. As dicas de ambos tornaram a nossaviagem a Paros muitomaisenriquecedora e completa. Aconselhamosestealojamentosempensarduasvezes e esperamosvoltar.
This has to be one of the best accomodations I have stayed in for many reasons. It has a great location-an easy 10-15 min walk into town but far enough out that you can get some peace and quiet, has as small rock beach just down the street thats never busy with an amazing sunset, is right next to a bus stop that takes you directly to Parikia ferry port. The rooms are spacious, clean, have great AC (especially in summer) and comfy beds. Breakfast: Everyday you get an excellent traditional breakfast basket with locally sourced produce and Natasha who curated it explains what you are eating and is happy to provide any further beverages you may want. Simos and Maria: Simos the host and his mother Maria are accomodating and passionate about making their guests have the best stay. Providing recommendations to help you get the most out of your time on the island, giving free history lessons about Paros and if you're lucky like we were getting a dancing lesson from Maria. I cannot express how much we enjoyed our stay in Alea and encourage others to do the same! Wewilldefinitelybeback!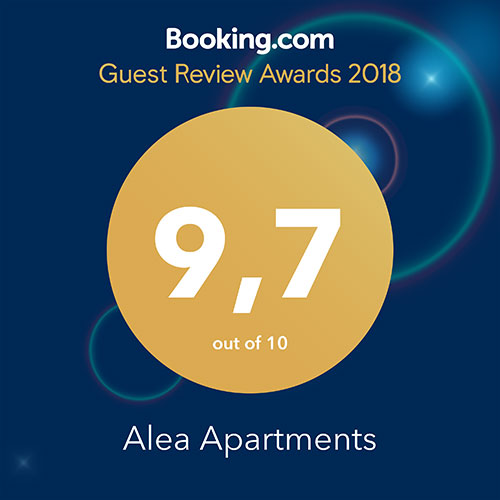 We'll be glad to host you
We Have Vacancy!
A 25% deposit is required to validate your booking with us. There is no cancelation fee for cancelations up to one month before check in date. You get a full refund. After that period, no refunds are made. In case of no show, the whole amount is charged.
The Reception desk is open 08.30-14.30 • Breakfast is served from 8.30-10.30
Check in time 12.00-14.30 • Check out time 11.00
* checking in and out at a different time is possible, but please be kind enough to make a request in advance